---
Cognizant hiring for Programmer Analyst- Apply Now.
1. About Company
Company: Cognizant
Cognizant is a leading professional services company dedicated to transforming clients' business, operating, and technology models for the digital era. Their consultative approach helps clients innovate and run more efficient businesses. Headquartered in the U.S., Cognizant is recognized on the Fortune 500 list and is highly regarded in the industry.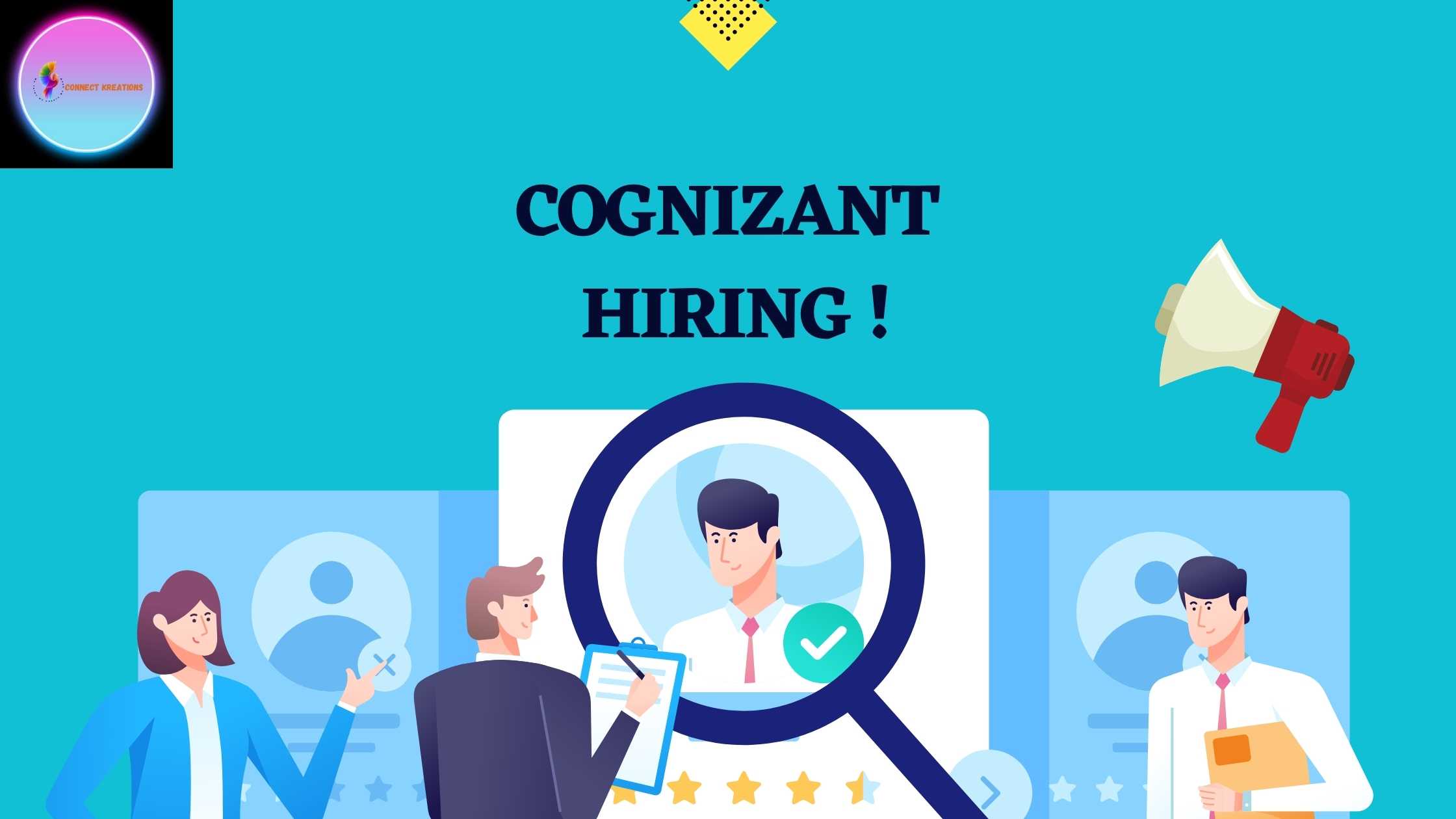 Table of Contents
2. Job Role
Job Role: Programmer Analyst
3. Detailed Information About Role and Responsibilities
As a Programmer Analyst at Cognizant in Hyderabad, Telangana, India, you will have the following responsibilities:
Project Management:
Accurately report time, effort, and project status.
Participate in internal review meetings.
Design and Implementation:
Understand technical specifications and develop efficient, high-quality code based on provided specifications.
Adhere to product standards, quality assurance norms, and guidelines.
Send deliverables for review and communicate any issues or concerns to the Team Lead within established timelines.
Follow best practices related to the project/product.
Testing:
Create unit test cases and perform unit testing.
Capability Building:
Participate in competency development initiatives.
Complete training programs and evaluations conducted by the PPS group.
4. Requirements
Qualification: Science / Engineering Graduate
Must-Have Skills: Regulatory-Veeva
5. Education Requirement
Applicants should have a Science or Engineering Graduate qualification.
6. Experience Requirement
Experience details are not provided in the job posting.
7. FAQ
Q: Is this a full-time position?
A: Yes, this is a full-time position with Cognizant.
Q: Are there any specific experience requirements?
A: The job posting does not specify any experience requirements.
8. Notice by Connect Kreations
This content is provided for educational and knowledge purposes only. Connect Kreations is not an organization hiring for the job listing mentioned in this post; we provide notifications on the latest job and internship updates. We make every effort to provide 100% genuine information. If any discrepancies occur, Connect Kreations is not responsible for any losses incurred.
Detailed Info
| Company: | Cognizant |
| --- | --- |
| Education: | Science / Engineering Graduate |
| Experience: | Not specified |
| Job Role: | Programmer Analyst |
| CTC: | Not specified |
How to Apply to this Job
Read the job details carefully: Begin by thoroughly reviewing the job description, requirements, and responsibilities on the job page to ensure the role is a good fit for your skills and qualifications.
Scroll down to find the "Apply Now" button: On the job page, navigate to the bottom to locate the "Apply Now" button or a similar call-to-action.
Click on the "Apply Now" button: Once you find the button, click on it to proceed with the application process.
Redirect to the official application page: You will be redirected to the official application page, where you'll find a form or an online application portal.
Complete the application: Fill in all required fields in the application form with accurate and up-to-date information. Provide details about your personal information, educational background, work experience, and any other information requested.
Attach relevant documents: If the application requires supporting documents like your resume, cover letter, or portfolio, make sure to attach them as per the provided instructions.
Review and submit: Take a moment to review all the entered information to ensure its accuracy. Double-check that you have provided all necessary details and attached required documents.
Submit your application: Once you are satisfied with the information provided, click on the submit button to send your application for consideration.
Join us for Regular Updates
Notice: Read the job description carefully before apply, Connect Kreations is not responsible for any of the job description, exams, aptitude and recruitment process. We here only provide the notification so that it can help more and more people to get job, internships. The Image used in this page is not an official image of any company or organizations. Apply at your own risk.
Read the Job Description: Click on the job listing to access the detailed job description. Take your time to read through the responsibilities, required skills, qualifications, and other relevant information to ensure that this position aligns with your interests and qualifications.
Prepare Your Resume and Cover Letter: Update your resume to highlight your relevant skills, experiences, and education. Craft a tailored cover letter that showcases your enthusiasm for the position and explains why you're an ideal candidate for the role.
Click "Apply Now": On the job listing page, look for the "Apply Now" button or a similar call-to-action. Click on it to start the application process.
Double Click To Apply Now
---
Recent Jobs And Internships
Prepare for placement and interviews
---
Welcome to Connect Kreations, your go-to platform for bridging the gap between technology and the community. Stay up-to-date on the latest tech trends, access valuable career resources, find job opportunities, embark on exciting projects, discover inspiring quotes, and explore the best tech books. Join us on this exciting journey of technology exploration and growth!