---
Salesforce hiring Software Engineering AMTS for 2024 Batch-Apply Now. Are graduating in 2024 with a B.E/B.Tech degree in Computer Science, Electrical, Electronics, or equivalent fields, with a specialization in computer science.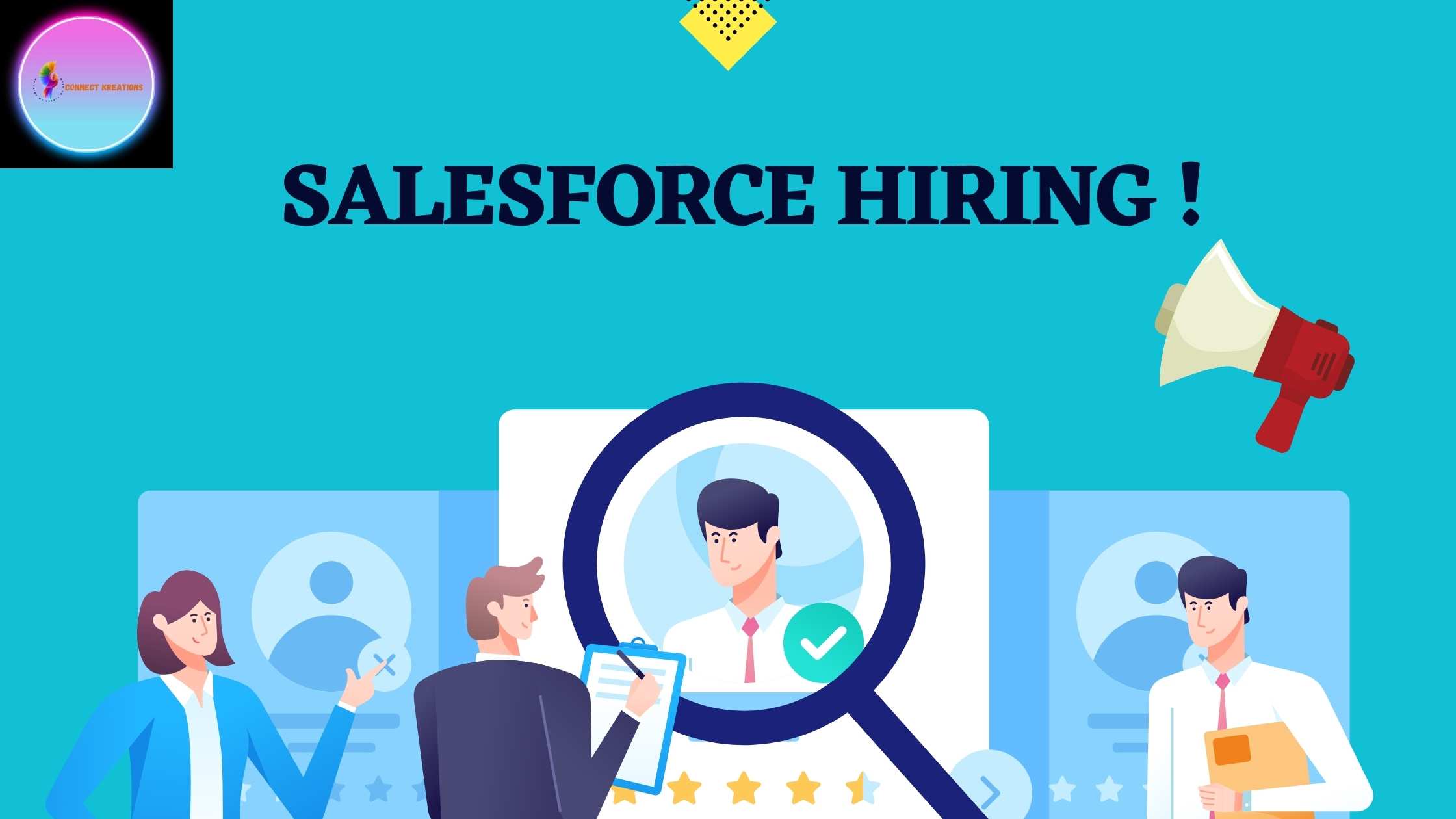 About Company
Are you ready to embark on a journey of innovation and technology? Look no further than Salesforce, the Customer Company that's shaping the future of business with AI, data, and CRM. If you're passionate about making a positive impact, driving performance, and charting new paths, Salesforce offers an opportunity for you to be a Trailblazer. Join us in defining the future of cloud computing and be a part of a global team that's transforming industries and making a difference.
Job Role: Software Engineering AMTS
At Salesforce, we're seeking Software Engineering AMTS (Associate Member of Technical Staff) to be a driving force behind creating scalable and high-performance products. As a part of our team, you'll be tasked with architecting, designing, implementing, testing, and delivering cutting-edge features that millions of users worldwide will love. Whether you're working on Marketing Cloud, Service Cloud, IoT, or any other application, you'll be instrumental in enhancing our trusted platform's stability and scalability.
Detailed Role and Responsibilities
In this role, your responsibilities will include:
Collaborating with a diverse team of engineers, product managers, user experience experts, and performance engineers to develop new features while ensuring platform stability.
Developing test strategies, designing automation frameworks, and writing unit/functional tests to improve code coverage and automation metrics.
Analyzing, designing, and implementing automated test suites and test cases.
Contributing to operational excellence through the use of telemetry and metrics.
Mastering our development process, culture, and codebase, and working to improve it continually.
Building scalable products that have a significant and measurable positive impact on users and the company's bottom line.
Requirements
To be a successful Software Engineering AMTS at Salesforce, you should possess:
Strong analytical and problem-solving skills.
Collaborative spirit and the ability to work effectively in a team.
Self-motivation and the ability to take initiative.
Experience in using telemetry and metrics for operational excellence.
Eligibility Criteria
You're eligible if you:
Are graduating in 2024 with a B.E/B.Tech degree in Computer Science, Electrical, Electronics, or equivalent fields, with a specialization in computer science.
Have a CGPA of 7 or above with no backlogs.
FAQ
Q1: What is the role of a Software Engineering AMTS?
A: As a Software Engineering AMTS, you'll be responsible for designing, developing, and delivering highly scalable products while collaborating with cross-functional teams.
Q2: Is experience required for this role?
A: This role is open to recent graduates and interns.
Q3: What is the focus of Salesforce's Futureforce University Recruiting program?
A: The program aims to attract, retain, and cultivate talent among interns and new graduates by offering real project experiences and development opportunities.
Connect Kreations Notice
Notice by Connect Kreations: This content is provided for educational and knowledge purposes. Connect Kreations is not an organization hiring for the job listing mentioned. We offer notifications about the latest job and internship updates, striving to provide accurate information. Connect Kreations is not responsible for any discrepancies or losses related to the descriptions provided.
How to Apply to this Job
Read the job details carefully: Begin by thoroughly reviewing the job description, requirements, and responsibilities on the job page to ensure the role is a good fit for your skills and qualifications.
Scroll down to find the "Apply Now" button: On the job page, navigate to the bottom to locate the "Apply Now" button or a similar call-to-action.
Click on the "Apply Now" button: Once you find the button, click on it to proceed with the application process.
Redirect to the official application page: You will be redirected to the official application page, where you'll find a form or an online application portal.
Complete the application: Fill in all required fields in the application form with accurate and up-to-date information. Provide details about your personal information, educational background, work experience, and any other information requested.
Attach relevant documents: If the application requires supporting documents like your resume, cover letter, or portfolio, make sure to attach them as per the provided instructions.
Review and submit: Take a moment to review all the entered information to ensure its accuracy. Double-check that you have provided all necessary details and attached required documents.
Submit your application: Once you are satisfied with the information provided, click on the submit button to send your application for consideration.
Detailed info
Company: Salesforce
Education: B.E./B.Tech/2024
Experience: Freshers
Job Role: Software Engineering AMTS
Location:  Hyderabad- Bangalore
CTC: Not Disclosed
Join us for Regular Updates
Notice: Read the job description carefully before apply, Connect Kreations is not responsible for any of the job description, exams, aptitude and recruitment process. We here only provide the notification so that it can help more and more people to get job, internships. The Image used in this page is not an official image of any company or organizations. Apply at your own risk.
Read the Job Description: Click on the job listing to access the detailed job description. Take your time to read through the responsibilities, required skills, qualifications, and other relevant information to ensure that this position aligns with your interests and qualifications.
Prepare Your Resume and Cover Letter: Update your resume to highlight your relevant skills, experiences, and education. Craft a tailored cover letter that showcases your enthusiasm for the position and explains why you're an ideal candidate for the role.
Click "Apply Now": On the job listing page, look for the "Apply Now" button or a similar call-to-action. Click on it to start the application process.
---
Recent Jobs And Internships
Prepare for placement and interviews
---
Welcome to Connect Kreations, your go-to platform for bridging the gap between technology and the community. Stay up-to-date on the latest tech trends, access valuable career resources, find job opportunities, embark on exciting projects, discover inspiring quotes, and explore the best tech books. Join us on this exciting journey of technology exploration and growth!