---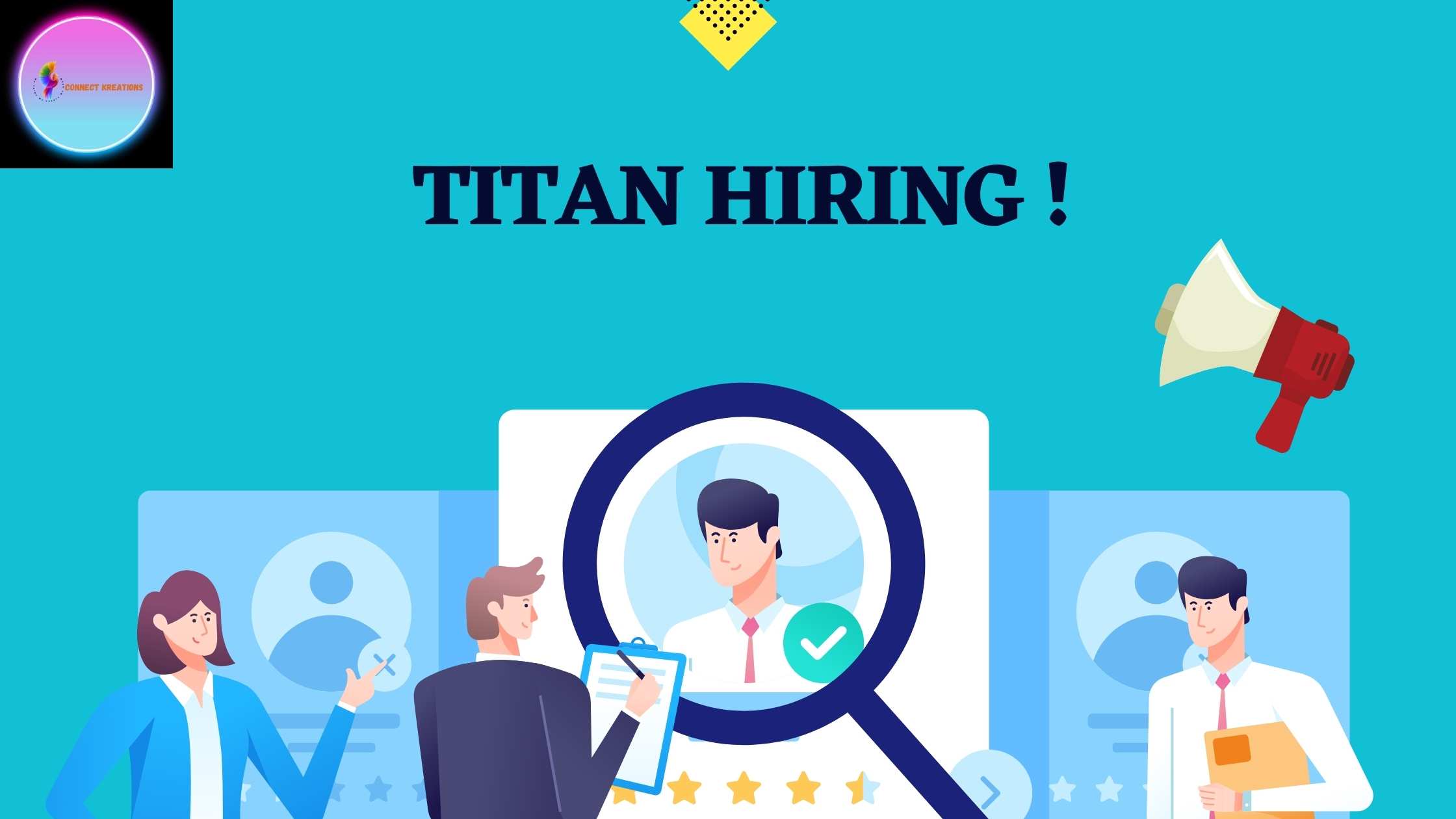 Titan – Product Design Intern.Titan hiring Product Design Intern-Freshers -Apply Now
1. About Company
Titan is a revolutionary email suite designed for professionals and small business owners, placing customer-centricity at its core. It offers dynamic tools that facilitate deeper and more meaningful relationships with customers, empowering users to build and nurture these connections effectively. Titan is the brainchild of Bhavin Turakhia, the Founder/Co-Founder of Directi, Radix, and Zeta, with a combined enterprise value exceeding $2 billion and a workforce of over 1000 employees. Titan envisions a future where email serves a purpose, guiding users towards prioritized work. Every moment counts in building a business, and Titan strives to provide tools that enable users to create remarkable brands, businesses, and organizations.
In 2021, Titan secured a $30 million investment from Automattic, the parent company of WordPress.com, valuing Titan at $300 million.
2. Job Role Position Title: Product Design Intern
3. Detailed Information about Role and Responsibilities
As a Product Design Intern at Titan, you will have a unique opportunity to shape user experiences and create impactful features. Your responsibilities will include:
Designing user-friendly features that delight users.
Collaborating and inspiring fellow designers to enhance product design systems.
Understanding user needs through market analysis, user research, usage analytics, and feedback.
Taking ownership of feature design from inception to completion, including creating personas, user journey maps, wireframes, high-fidelity mockups, and clickable prototypes.
Advocating for your design solutions by aligning them with business and user objectives.
Working closely with engineers to ensure your designs are implemented effectively.
Iterating and refining existing designs to meet user expectations.
Contributing to a collaborative and knowledge-sharing design community.
4. Requirements
To excel in this role, you should meet the following requirements:
5. Education Requirement
Fresher or prior internship experience in design-related fields.
Available for a 3-month internship opportunity.
6. Experience Requirement
Exceptional interaction and visual design skills with a portfolio showcasing expertise in both areas.
Strong verbal and written communication skills.
Proficiency in high-fidelity mockup and prototyping tools such as Figma.
7. FAQ
Q1. What is Titan's mission?
A1. Titan's mission is to create a customer-centric email suite that enables professionals and small business owners to build deeper and more meaningful relationships with their customers.
Q2. Who is the founder of Titan, and what is their background?
A2. Titan was founded by Bhavin Turakhia, who has a successful track record as the Founder/Co-Founder of Directi, Radix, and Zeta, with a combined enterprise value of over $2 billion.
Q3. How can I apply for the Product Design Intern role at Titan?
A3. You can explore and apply for this internship opportunity through Titan's career portal.
8. Notice by Connect Kreations
Connect Kreations Disclaimer: This content is provided solely for educational and knowledge purposes. Connect Kreations is not an organization hiring for the job listing mentioned here. We offer notifications about the latest job and internship updates, striving to provide genuine information. Connect Kreations is not responsible for any discrepancies or losses resulting from the information provided.
How to Apply to this Job
Read the job details carefully: Begin by thoroughly reviewing the job description, requirements, and responsibilities on the job page to ensure the role is a good fit for your skills and qualifications.
Scroll down to find the "Apply Now" button: On the job page, navigate to the bottom to locate the "Apply Now" button or a similar call-to-action.
Click on the "Apply Now" button: Once you find the button, click on it to proceed with the application process.
Redirect to the official application page: You will be redirected to the official application page, where you'll find a form or an online application portal.
Complete the application: Fill in all required fields in the application form with accurate and up-to-date information. Provide details about your personal information, educational background, work experience, and any other information requested.
Attach relevant documents: If the application requires supporting documents like your resume, cover letter, or portfolio, make sure to attach them as per the provided instructions.
Review and submit: Take a moment to review all the entered information to ensure its accuracy. Double-check that you have provided all necessary details and attached required documents.
Submit your application: Once you are satisfied with the information provided, click on the submit button to send your application for consideration.
Detailed info
Company: Titan 
Education: B.E./B.Tech/MCA/BCA/ME/MS/M Tech
Experience: Freshers
Job Role: Product Design – Intern
Location:  BENGALURU, KARNATAKA /
CTC: Not Disclosed
Join us for Regular Updates
Notice: Read the job description carefully before apply, Connect Kreations is not responsible for any of the job description, exams, aptitude and recruitment process. We here only provide the notification so that it can help more and more people to get job, internships. The Image used in this page is not an official image of any company or organizations. Apply at your own risk.
Read the Job Description: Click on the job listing to access the detailed job description. Take your time to read through the responsibilities, required skills, qualifications, and other relevant information to ensure that this position aligns with your interests and qualifications.
Prepare Your Resume and Cover Letter: Update your resume to highlight your relevant skills, experiences, and education. Craft a tailored cover letter that showcases your enthusiasm for the position and explains why you're an ideal candidate for the role.
Click "Apply Now": On the job listing page, look for the "Apply Now" button or a similar call-to-action. Click on it to start the application process.
---
Recent Jobs And Internships
Prepare for placement and interviews
---
Welcome to Connect Kreations, your go-to platform for bridging the gap between technology and the community. Stay up-to-date on the latest tech trends, access valuable career resources, find job opportunities, embark on exciting projects, discover inspiring quotes, and explore the best tech books. Join us on this exciting journey of technology exploration and growth!