---
A Comprehensive Comparison of 8 AI Presentation Makers
Introduction:
AI presentation makers have become invaluable tools for creating engaging and visually appealing slides quickly and effortlessly. In this blog post, we will explore and compare eight top AI presentation tools, including Gamma, Simplified, Canva, CH GBT, Slides GBT, Magic Slides, Slides AI, and Tom AI. We'll evaluate these tools based on processing time, image quality, content depth, and theme options.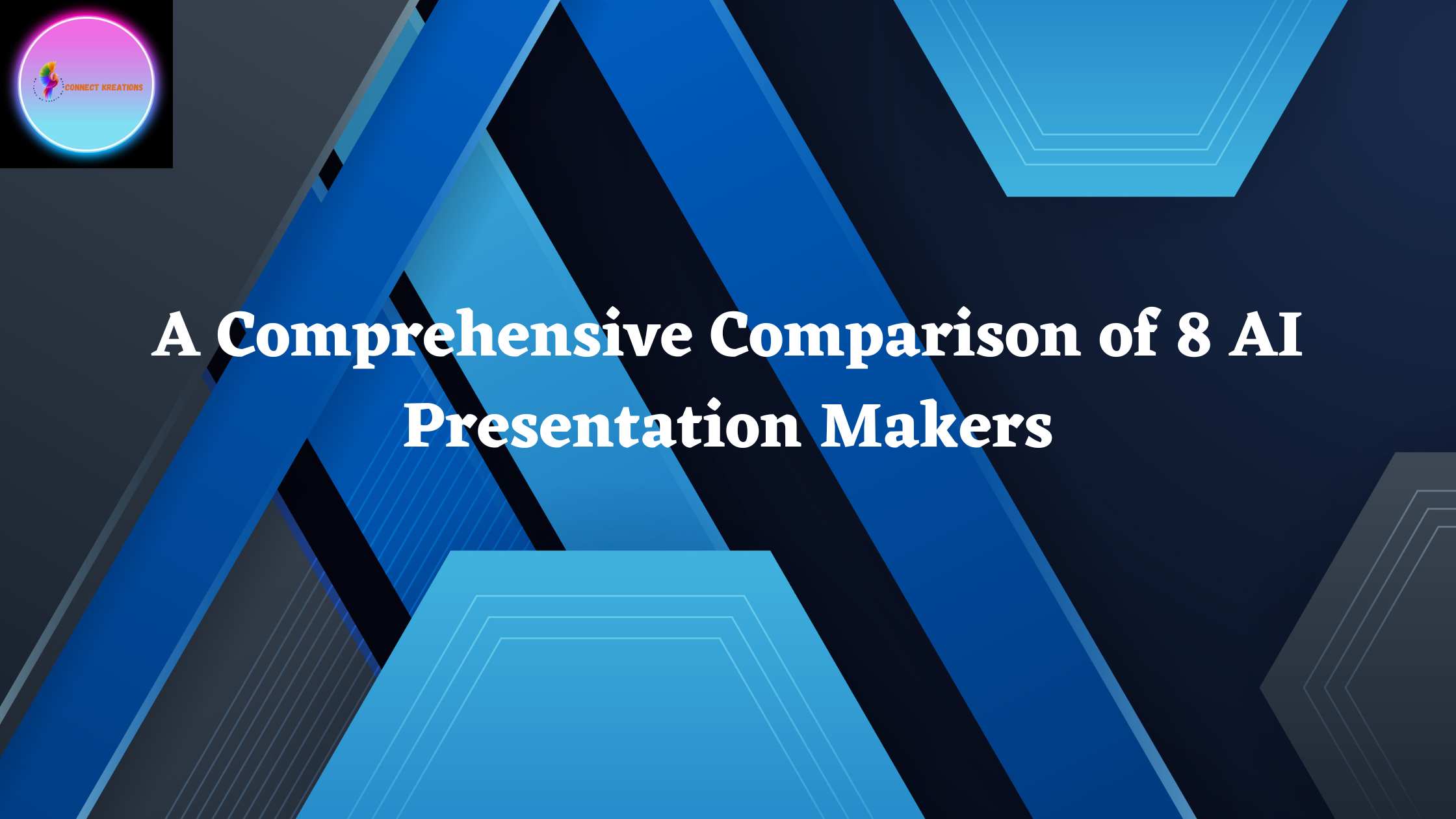 8 AI Presentation Makers
Gamma – Aesthetic and Professional Gamma is an AI tool that stands out with its beautiful and professional slide designs. It offers a quick and easy way to create engaging presentations. With a 19-second generation time, it provides high-quality images and reasonably crafted content. The theme options are diverse, making it a great choice for many presentations.
Simplified – Engaging and Storytelling Simplified's AI presentation maker captivates with its storytelling approach. It takes just 23 seconds to generate slides that include high-quality images. The content is engaging, although it occasionally lacks depth. The tool offers an extensive range of themes for customization.
Canva – Quick and Convenient Canva is well-known for creating visually appealing content. Its magic design feature generates presentations in just 11 seconds. While it provides a straightforward and quick way to create slides, the content may lack depth, and some images may appear irrelevant.
CH GBT – Plugin-Based with Room for Improvement CH GBT has introduced plugins for slide creation, available to paid subscribers. It took 38 seconds to generate slides with basic-level content. There's room for improvement in terms of image inclusion and content depth. The tool currently has limited customization options for themes and formatting.
Slides GBT – Improved Content Quality In this recent test, Slides GBT showed improvement, generating a comprehensive presentation in 3 minutes and 52 seconds. The content included relevant images and maintained a reasonable quality level, making it a notable option for users.
Magic Slides – Consistent Performance Magic Slides maintained a similar content quality level in 92 seconds. While there are instances where images don't perfectly align with the content, it offers a quick solution for creating presentations.
Slides AI – A Drop in Content Quality Slides AI generated slides in 35 seconds but displayed a noticeable drop in content quality. While it remains a functional tool, there are other options that offer more comprehensive results.
Tom AI – The Top Performer Tom AI consistently delivers detailed content with high-quality and relevant images on each slide. With a 12-second generation time, it maintains its position as one of the most impressive presentation makers.
Conclusion:
In the world of AI presentation makers, the choice of tool can significantly impact the quality and efficiency of your slide creation. Each of the eight tools we explored has its strengths and weaknesses, and the right choice depends on your specific needs and preferences. Tom AI, Gamma, and Simplified AI are top contenders, excelling in terms of content quality and processing time.
Note from Connect Kreations
Please keep in mind that the information provided here is for educational purposes, and Connect Kreations is not responsible for any potential losses. We hope this comparison helps you make an informed decision when selecting the AI presentation maker that best suits your requirements. Thank you for reading, and stay tuned for more insightful content from Connect Kreations.
Notice: This information is for educational purposes only. While we strive for accuracy, Connect Kreations is not responsible for any discrepancies or inaccuracies in the content. We recommend conducting prior research to verify the information.
---
Read More on Tech Science
---
Placement Preparations
---
Join us for Regular Updates
---